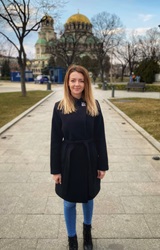 Rumyana Velichkova
"Teamwork is the value of DSK Bank that I associate with the most"
I started working at DSK Bank immediately after graduating, when I had almost 3 years of experience in the IT field. I wanted to know a little more about the corporate world I got excellent opportunities for development and training at the Bank, and last but not least - security, which few companies could offer.
I have been part of the team for almost 4 years, during which I worked in two different departments. Currently I am the head of the Access Management Department in the Information Security Directorate.
One of the things I like most about my work here is how dynamic and diverse it is - it can't be framed. I would like to be able to maintain this enthusiasm for the new and not stop developing my personal and professional qualifications in the future.
In my daily work I find meaning and inspiration in the smallest details, but I feel the greatest satisfaction when I manage to facilitate or support the work process. I am inspired by every problem, for the solution of which I find a way to help my colleagues.
Teamwork is the value of DSK Bank that I associate with the most and in which I find my motivation. I am grateful for the fun moments with the team, and I believe that they are extremely important for the work process, especially in the difficult circumstances of the last two years. That is why we all try to have something to laugh about from the heart at least once a day.