07.06.2022
We have launched a campaign to reduce our team's carbon footprint
Did you know that, according to WWF, global warming can cause the death of all polar bears and their total extinction as a species within just the next 20 years?

In order not to happen, we – the team of DSK Bank– have launched our internal campaign to reduce our carbon footprint on the environment and limit global warming. Since the increase in surface temperature on Earth is mainly caused by the greenhouse gases emitted by burning fossil fuels by humans, the first step each of us can take is to approach responsibly and stop wasting energy.

At the bank, nearly 80% of our carbon emissions are emitted from electricity consumption and 13% from the use of motor vehicles.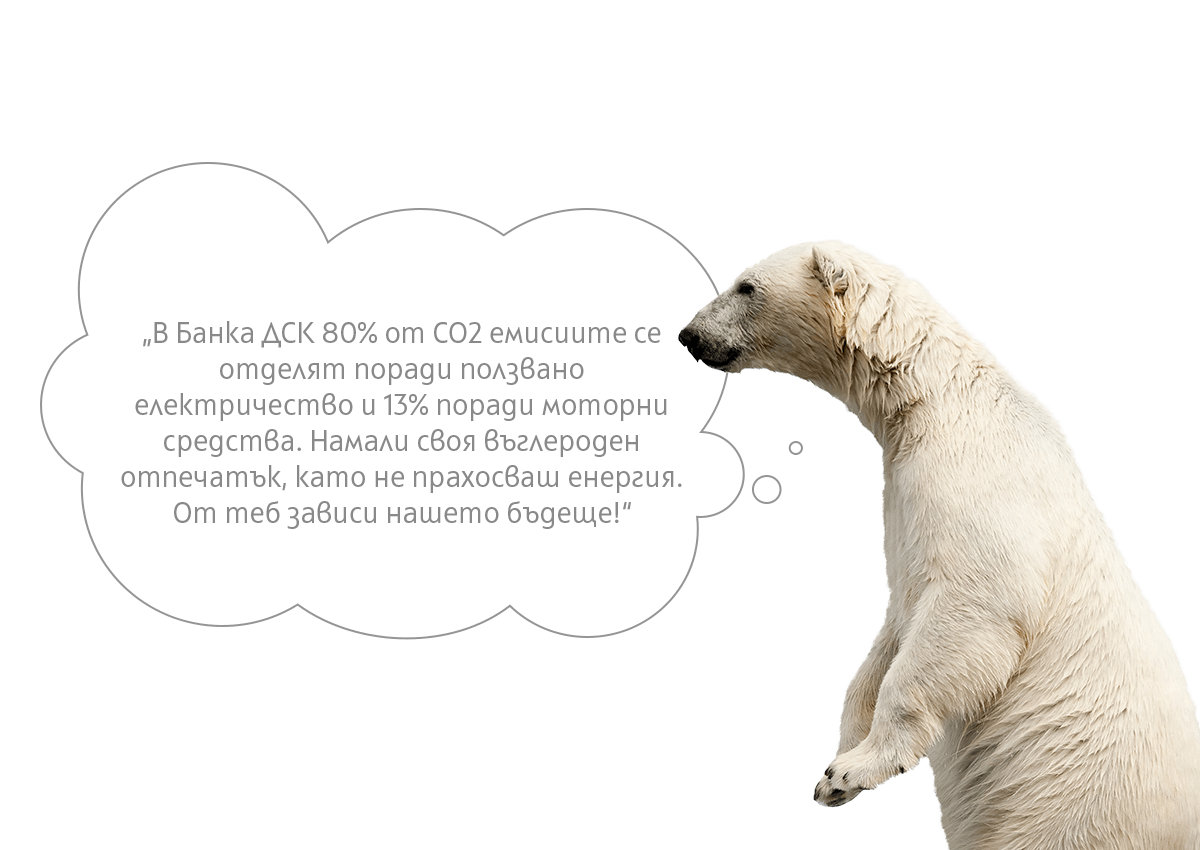 In this regard, we started with "Green Week", dedicated to energy. "Green Weeks" is a tradition for our team. We conducted it from 9th to 15th May and all our colleagues took part. We were gathering ideas on how to reduce energy consumption. We shared information about the bank's commitment to sustainable development and the Green Deal, the ESG strategy of DSK Bank, our Eco project, as well as interesting facts about energy, carbon emissions and others. Our campaign has continued with a challenge – an internal competition between the Regional Groups and the bank's central government buildings to reduce electricity consumption by 5% by 2021.

ЗFor the slogan of our campaign, we chose in jest the famous Bulgarian phrase "Close your window because the white bears came", and in the summer "Turn off your air conditioner because the white bears came".
White bears are really with us during our campaign to remind us that their existence depends on us. And to cool/warm moderately, to drive smoothly with the thought of nature, to stop the heating/air conditioning when you open the window are just some of the small gestures that each of us makes for the benefit of our environment.

This campaign also supports our joint initiative with Mastercard - Wildlife Impact Card to help critically endangered wildlife.

Because change starts with us, and every gesture matter!
Свържи се с екип "PR и комуникации"