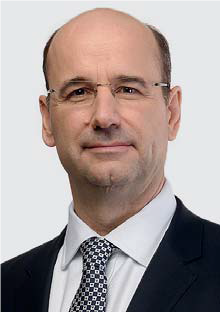 László Bencsik
Chairperson of the Supervisory Board
László Bencsik has been a member of the Supervisory Board of DSK Bank since May 2010. In 1996, he graduated from the Faculty of Business Administration at the Budapest University of Economic Sciences, and in 1999 he obtained a Master's in Business Administration (MBA) from INSEAD Business School in France.
Between 1996 and 2000 he worked as a consultant at Andersen Consulting (now Accenture).
From 2000 to 2003 he was a project manager at consulting firm McKinsey & Company. He joined OTP Bank in 2003, when he became managing director of the Bank Operations Management Directorate, and the manager with overall responsibility for controlling and planning.
He has been deputy CEO of OTP Bank, and head of the Strategy and Finance Division, since August 2009. Since 13 March 2012 he has been Chairperson of the Supervisory Board of DSK Bank.