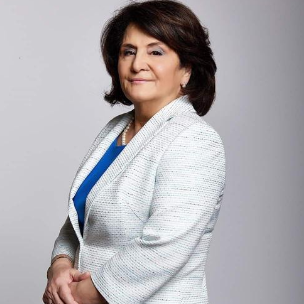 Violina Marinova
Member of the Supervisory Board
Violina Marinova has been a member of the Supervisory Board of DSK Bank since November 2020. Before that Ms. Marinova has been DSK Bank's CEO since 2005 to 2020. With 48 years of professional experience at DSK Bank, she is the epitome of a career model, staring at the bottom as a front desk officer and climbing all the way up to a CEO position. Under her management DSK Bank has transformed into a modern bank an undisputed leader in retail banking and among the best employers according to Bulgarian students. After the acquisition of Societe Generale Expressbank by DSK Bank, in 2019 Ms. Marinova was appointed Chief Executive Officer of the new integrated bank.

For 15 years Mrs. Marinova runs the bank, which is the leader on the Bulgarian bank market, the financial institution with the largest number of clients and the most trusted bank for the users of financial services. Under her management the bank is implementing its long-term development strategy and large-scale digital transformation of its business and also investing in innovative offices, modern products and customized solutions for its more than 2.5 million customers to whom the bank offers the largest branch and ATM network in the country and state of the art e-banking channels.
In 2005 Ms. Marinova was awarded the prestigious Hungarian Andras Fay award for the exceptionally high results achieved by DSK Bank during the implementation of OTP Bank's transformation program after DSK Bank's privatization in 2003. Violina Marinova is Chairperson of the Managing Board of Atanas Bourov Foundation and Deputy Chairperson of the Executive Board of the Association of Banks in Bulgaria. Winner of many prestigious national and international awards. In 2013 Ms. Marinova was voted Manager of the Year in the Manager of the Year competition of Manager magazine.

A bank leader and a visionary, on account of her exceptional contribution to the building and preservation of trust in Bulgarian financial institutions, markets and services, in 2013 Violina Marinova became the first and only banker to date to have received the highest national award – Stara Planina Order, first degree. In 2014 DSK Bank's CEO was awarded Hungarian Gold Cross for Merits in acknowledgement of her support for the Bulgarian-Hungarian cultural exchange. In 2019 Violina Marinova was recognizedby the financial news outlet Banker as Banker of the Year 2019 for remarkable business growth and preserved customer trust.