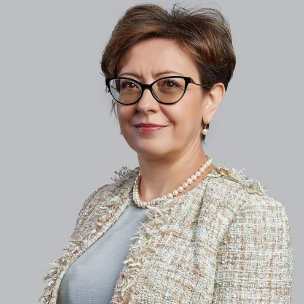 Dorothea Nikolova
Management Board member and Executive Director
Ms. Nikolova joined DSK Bank in 2003 as Head of Controlling and went on to become a member of the Management Board in 2007 and a CFO.
At the beginning of 2019 she was appointed and served as a CEO of Expressbank until April 30, 2020, when Expressbank merged into DSK Bank.
As of May 1, 2020, Dorothea Nikolova returned to DSK Bank as Executive Director in charge of the newly set bank division Collection and MB member.
Ms. Nikolova had previous experience as CFO and Member of the management of Citibank N.A. Sofia Branch and Assistant Manager in the Banking and Capital Markets Division in PwC London and prior to that in Sofia.
She is a qualified fellow of the Association of Chartered Certified Accountants and a bearer of the prestigious Hungarian Andras Fay award.
In 2015 Ms. Nikolova was named Banker of the Year by Banker weekly and in 2016 by the renowned Bourov Foundation.She is also a two times winner of the CFO of the Year award in a competition, organized by Forbes and EY Bulgaria.
E-mail : Mariya.Gencheva@dskbank.bg