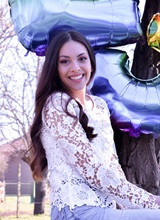 Kristiana Ivanova
"Anyone who is motivated to better themselves will find their place here"
I have been working at DSK Bank for 4 years now. At the same time, I have also been studying to get my Bachelor's degree in Software Engineering. I am currently working as a Senior Expert at the most wonderful directorate - Administration of Linux-based Applications.
There is no such thing as a typical workday – each day at DSK Bank is different from the previous one and is full of many activities. There always occurs at least one unforeseeable event which my colleagues and I have to manage. What inspires me to keep working hard in these scenarios are my co-workers. They are people who have clear goals in life and are always striving to be the best versions of themselves. Although we do not work directly with clients, our job is very important because every action we take affects the banking applications.
DSK Bank provides great opportunities for young people. All they have to do is take the initiative. I believe that anyone who is eager to seize these opportunities will find their place here. I myself am an example.
In 2017 I graduated from the Technology School Electronic Systems (TUES). In the summer of that year, I took a course to learn about Database Administration, which I completed with satisfactory results. During this time, I acquired a lot of theoretical knowledge. However, I had no practical experience.
Thanks to the knowledge I gained during the DBA course and to Ivailo Iliev – Head of Admin Testing and Accepting IT Systems, I and another participant started our professional careers at DSK Bank.
I feel proud of myself because I am successful in meeting my goals. Step by step one goes far.