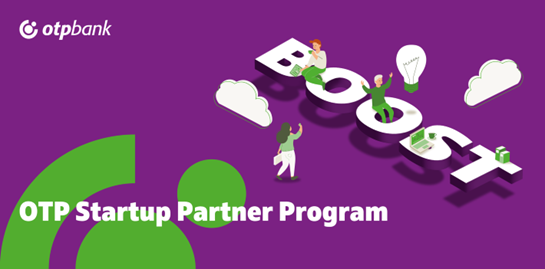 The results of 15 startup collaborations revealed at the Demo Day of the 4th OTP Startup Partner Program
OTP Bank organized the online Demo Day of its group-level startup partnership programme on 26th May, where 15 later-state startups and scaleups presented the results of their 3-month pilot projects executed in collaboration with Albanian, Bulgarian, Montenegrin, Serbian and Ukrainian group members besides the Hungarian headquarters. OTP employees, including executives of the banking group, investors, and representatives of the Program's international partner network followed the virtual closing event. The development of the best solutions is set to continue: projects with the highest business potential will be admitted to the 6-month rollout phase of the Program spanning over the second half of the year, offering support for the live implementation of the tested innovations.
The 4th OTP Startup Partner Program invited applications from innovative enterprises with more mature, validated solutions to address almost 100 business challenges last autumn. The Program proved to increase its appeal towards the global startup scene, as 469 later-stage startups from 51 countries applied, and 15 had the opportunity to implement joint pilot projects with six members of OTP Group, each with support from dedicated sponsoring business units. Besides the Hungarian headquarters, subsidiary banks tapped into the potential of startup collaborations, thus Albanian, Bulgarian, Montenegrin, Serbian and Ukrainian business units have also tested how innovative startup solutions can strengthen the competitiveness of the group.
The 2020/2021 Program adopted a fully online setup – from the selection process to the pilot period – for the first time, and it also welcomed the Program's largest batch size to date. During the 3-month pilot phase, besides working hard on their pilots, startuppers got the chance to participate at trainings to support their general business development, providing them with 43 hours of workshop attendance and more than 100 hours of one-to-one mentoring. The cohort companies had also access to the Program's prestigious partner network, including EIT Digital, HubHub, KiwiTech, Mastercard, Microsoft, McKinsey, and PortfoLion. At the end of the event, 7 startups received special prizes from the Program Partners and based on the votes of the audience.
OTP Bank Hungary's Deputy CEO Péter Csányi highlighted the benefits of the group-level program: "By scaling the OTP Startup Partner Program to group level, we realized various benefits. We ensured that each group member has access to a unified, proven methodology for startup and scaleup collaborations. Pilots run according to the same standards can be compared more easily, with group-level knowledge sharing also built into the process. This enables us to innovate more efficiently, and introduce startups validated in one market to other group members."
For more information on the program visit: www.otpstartup.com