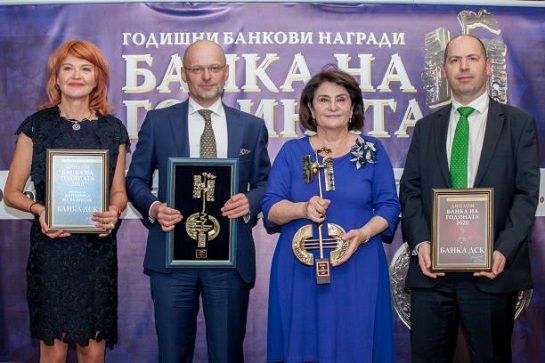 DSK Bank is Named Bank of the Year 2020
DSK Bank is the big winner yet again at the Bank of the Year competition organized by the Bank of the Year Association. The big prize Bank of the Year was awarded to DSK Bank for its best, all-around performance in terms of market share, efficiency and dynamic growth. At the official ceremony held in Sofia Grand Hotel, beside Bank of the Year 2020 award, the Bank won the Dynamic Growth award too.
The two awards were collected by a team of DSK Bank's high management representatives: DSK Bank's CEO and Chairperson Tamas Hak-Kovacs, member of the Bank's Supervisory Board and former CEO Violina Marinova, Executive Director and head of Retail Banking division Diana Miteva and Executive Director and head of Corporate Banking division Boyan Stefov. The awards are yet another recognition of the fact that following DSK Bank's successful integration with Expressbank in 2020 and the highly challenging eighteen months, the Bank continues to be one of the pillars of the national bank system and a leader to which all other banks align. During the past year not only did the Bank adapt to the dynamically changing environment marked by the pandemic situation but managed to look to its clients' best interests by joining different mitigation schemes and measures for credit liabilities' deferral, while continuing to demonstrate growth. The two awards are an evidence of the well-conducted succession in the Bank's strategic management.
I thank you on behalf of the entire DSK Bank team. For me this honour is not only an acknowledgement of our hard work but an even greater responsibility to our main objective, namely to improve even further the customer journey and satisfaction, while at the same time upholding our leading position in terms of stability and trust, Tamas Hak-Kovacs said at the ceremony.
Bank of the Year award and the annual bank awards were established in 1992, while in recent years the competition has been organized by Bank of the Year Association. So far DSK Bank has been winner of the Bank of the Year award seven times.