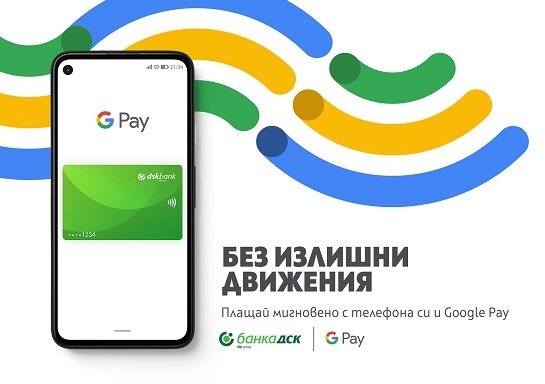 DSK Bank customers can now pay with their smart devices via Google Pay
As of today, all clients of DSK Bank with smart devices with Android operating system (Lollipop 5.0 or higher) can register their debit and credit cards issued by the bank using the Google Pay service. Thus, they can now pay contactless with their phone, tablet, or smartwatch at all POS terminals in the country and abroad, buy Android applications, shop at online merchants that accept Google Pay, and withdraw money at contactless ATMs as well.
Google Pay is one of the most widely used services to allow mobile payments and provide a secure way to store debit cards, credit cards, and other non-bank cards (discount cards, loyalty cards, board cards, etc.). Google Pay turns the mobile devices of DSK Bank customers into a payment device for easy, fast, and convenient payments at any POS terminal in the country or abroad.
The easiest way for users to add their cards to Google Pay is through the mobile banking of DSK Bank - DSK Smart, taking the following steps:
Log in DSK Smart (the service is available in the latest version only);
Go to the "Cards" menu;
Add the chosen card by clicking on the "Add to G Pay" button;
Accept and agree to Google Pay and DSK Bank terms of use;
Receive successful registration confirmation.
With the latest service of DSK Bank customers can take advantage of the convenience and security of Google Pay payments thus eliminating the risks related to direct bank cards payments or payments in cash.