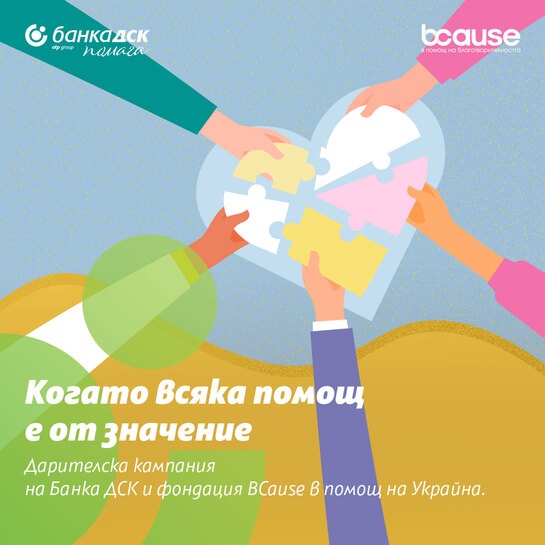 The campaign in support of Ukraine of DSK Bank and BCause Foundation will support 230 Ukrainian refugees
The donation campaign, which is part of the DSK Bank Helps platform, is gaining speed and so far with your help have been raised nearly 45,000 BGN. This allows us to respond very quickly to the needs of people and organizations that accept our help. For a start, we will support 4 organizations that work with refugees from Ukraine in Sofia, Pernik, Stara Zagora, Vidin and Primorsko with a total of 19,000 BGN.
Here they are:
Support for children from a canoe-kayak sports club from Ukraine – 4000 BGN
A group of 26 children and four coaches from a canoe-kayak club arrived in Vidin on March 17th. The children are without their parents, who remained in Ukraine. Their coaches are taking care of them. They are accommodated in hotel "Rovno" in Vidin.
BCause Foundation will help volunteers and the local canoe-kayak club to start playing sports as soon as possible, because sport is the way for them to feel included, to return to their normal life and more.
With our help they will buy sports clothes, shoes, special rowing vests, we will pay for the repair of donated kayaks, if necessary, we will buy food, all kinds of medical and hygienic consumables. BCause will administer the campaign expenses.
Pulse Foundation, Pernik - 3000 BGN
Currently, 5 women, 1 child and one elderly man fleeing the war are accommodated in a sheltered housing of the PULSE Foundation.
The foundation is ready to welcome 3 more people in the long run.
The funds will be spent on humanitarian aid, medicines, legal and social support, but also on psychological assistance. PULSE Foundation is ready to hire a Russian-speaking psychologist who will help children and adults.
Concordia Bulgaria Foundation - BGN 4,000
So far, they have sheltered and supported 25 people (3 men, 12 children, 10 women) in the foundation youth complex "Hello". The stay per person per day amounts between BGN 45-50, with a personal package for newcomers, which includes hygienic materials and a set of clothes, food, shelter, psychological and social care.
Wings Mission Foundation - BGN 5,000
The organization works with refugees in Stara Zagora's region. Their needs are hygiene materials, COVID-19 tests and medicines, food and emergency dental care for refugees. The Mission Wings Foundation hosts 6 women and 6 children in the Mother and Baby Unit they manage and fully meets their needs.
There are continuously new women with children who are seeking humanitarian aid in the Complex for social services for children and families - Stara Zagora.
Our Premature Babies Foundation, which cares for 140 mothers with children from Ukraine – BGN 3000
About 140 mothers with children from Ukraine are currently accommodated in Hotel Sunrise in Primorsko. There are about 75 children, most between the age of 4 and 14.
The needs are: ️diapers, hygiene materials, etc. Food is provided at the moment. They need funds to purchase:
➡️ Notebooks and teaching aids - pencils, pens, etc.
➡️ Tools for painting and applied arts - blocks, brushes, etc.
➡️ Entertaining books and coloring books.
ELA Shared Learning Association - BGN 9,650
The funds provide support for a whole month for the children's center working with refugee children from Ukraine, as well as with their mothers. Educators and psychologists help in the educational process and adaptation of 10-15 children, teaching aids, materials, snacks, fruits are bought along with everything needed to make children feel calm and well during the day. Funds will be set aside for excursions near Sofia and other entertainment. Separate psychological support is provided for mothers when needed.
We will regularly inform you what your funds are used for and who exactly we help with them.
We truly thank everyone who has joined and donated so far! Your contribution matters.
The teams of DSK Bank and BCause Foundation