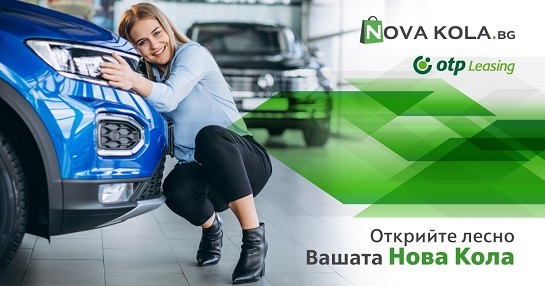 An innovative platform for buying new cars on lease is launched
OTP Leasing, a subsidiary of DSK Bank, launched Bulgaria's first internet platform for online selection and purchase of new cars on lease. As of today, everyone can easily and with just a few clicks on www.novakola.bg choose the most suitable offer for them, comparing the leasing offers of the most popular car brands in Bulgaria. Nova Kola (New Car) is a project of OTP Leasing, which aims to make it easier for customers to choose a new car entirely online. Nova Kola works with all leading car brands officially operating on the Bulgarian market and is the first online platform in Bulgaria where users can browse various brands, models and leasing offers for new cars in one place.
"Creating the Nova Kola platform, we took into account all the factors and trends. We wanted to respond as quickly and adequately to consumer needs, considering the desire of our customers to quickly and completely remotely get a new car under excellent leasing conditions. Thanks to the highly flexible and attractive financing conditions we offer, consumers can get and drive the car they want for a very low monthly fee. When they decide it is time for a new car, they can easily replace it," Mihail Komitski, CEO of OTP Leasing, said at the launch of Nova Kola.